Nutrition Resources
Region of Peel: Good nutrition is important for all ages, especially for active, growing children! Learn about: You and your child's job at mealtime, ways to help your child become a healthy eater and how you can help your child feel good about themselves.
---
Canada's Food Guide: Eating healthy is more than the food you eat. Learn about food choices, eating habits, and a whole lot of tips including planning, buying and cooking healthy food, Eat Well Plate, recipes, eating on a budget, food waste and the environment, sugar substitutes
---
Canada's Food Guide Recipes that are easy and delicious.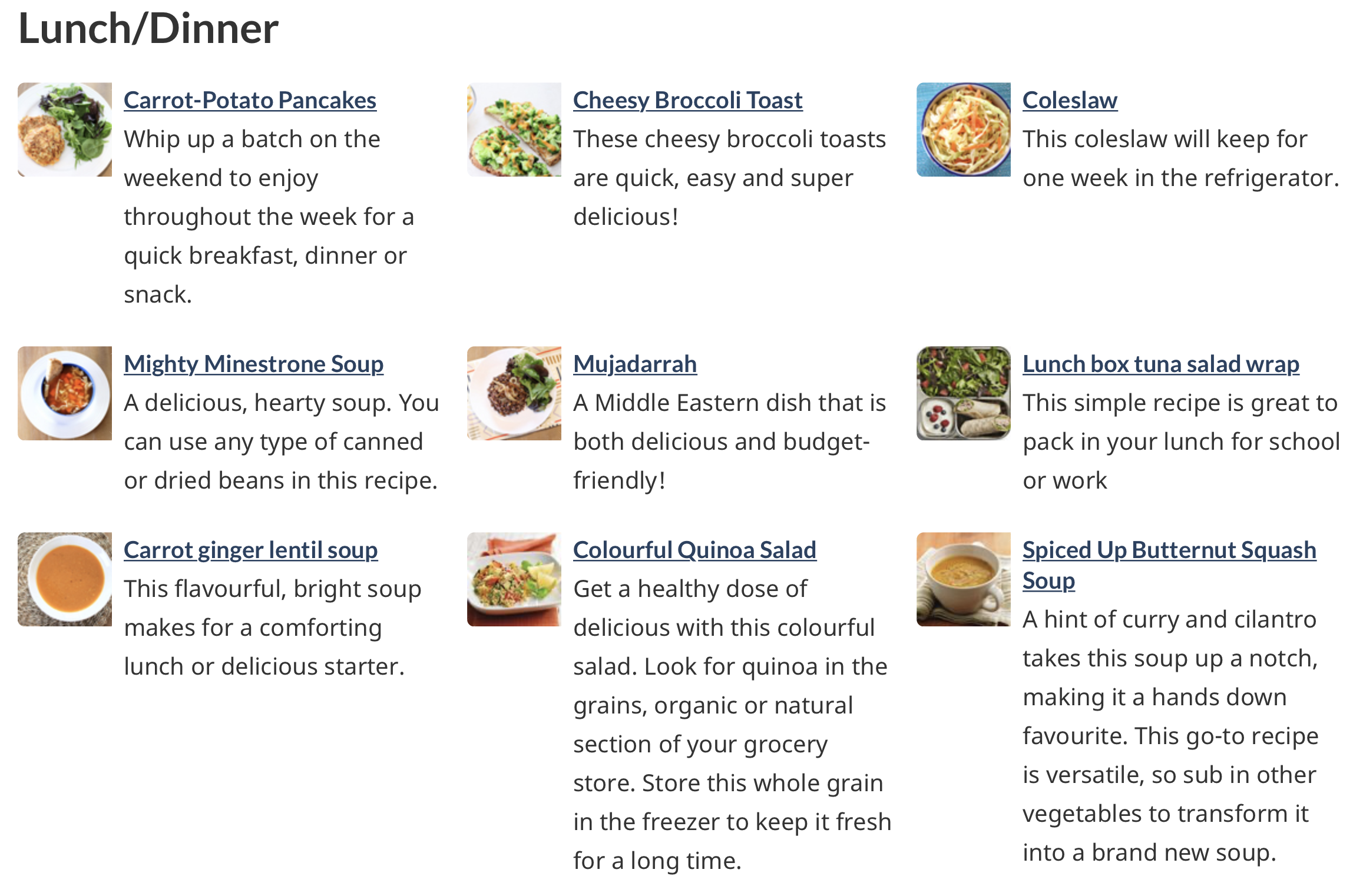 ---
How to eat healthily on a budget: Healthy eating on a budget can be made easier with these ideas: Stick to your list, shop for sales, compare prices, consider the season, choose plant-based proteins… Check out the Canada's Food Guide article for even more ways to save.
---
Healthy Snacks: Snacks are a part of your eating pattern. Much of the food you eat can come from snacking, and some people may snack during the day instead of eating traditional meals. It is important to develop healthy habits when it comes to snacking.
---
Caring For Kids.org; Snacks for Children: Healthy snacks are as important to your child's growth and development as healthy meals. Young children have small stomachs and can't get all the nutrients they need from just 3 regular meals. Older children need snacks to stay alert and energetic throughout the day.
---
Eating Healthy and the Environment: The foods and drinks you choose can impact the environment. Learn how to make healthy choices for you and the environment.
---
Healthier Grocery Shopping: Grocery shopping is your chance to choose the ingredients you use when preparing your meals and snacks. These decisions influence your eating pattern.
---
---
Menu Labeling: Menu labelling means providing nutrition information on the menu or menu board in restaurants and foodservice establishments. Menu labelling promotes food transparency and healthier eating environments. Menu labelling has been recommended by many experts, health organizations and health advocates.
---
Food & Your Child's Behaviour: Sugar, food additives and caffeine are often blamed for behavioural problems in children…
---
Nutrition Screening: Are you eating healthy?? Take this quick to find out!
---
---
Resources by Age Group:
Baby's First Year
Feeding your baby: Deciding how you are going to feed your baby in the first year means making a choice that works best for your family.
---
Baby's First Food: Food tips, starting solids, food textures and more.
---
Food Safety and Allergies: Allergies, homemade vs. store-bought, how to avoid choking and other safety related tips.
12 -30 Months
Nutrition for Toddlers and Preschoolers: Now that your child is a toddler, he may be growing much slower than when he was an infant. Don't be surprised if you notice some changes in the way he eats. This is all normal.
---
Dealing with Picky Eaters: Parents need to help their child learn how to eat while respecting when their child is hungry or full. The most important thing is that your child is growing well for their age.
---
Tips on Feeding Toddler/Preschooler: Variety of tips including which foods to choose, setting regular times, feeding cues and so much more!
---
Age 3-6
Nutrition for Preschoolers: Can my 3 year old eat with utensils, making eating fun, ways to help your child become a healthy eater and child friendly recipes to include your little one, plus much more.
---
School Age
Nutrition for School Agers: The food choices that school-age children and youth make directly influence their learning and health. Good nutrition contributes to healthy growth and development, and promotes concentration.
Healthy eating is not just about what you eat but how you eat.
---
Involve kids in planning and preparing meals: You can teach your kids important food skills to set them up for a lifetime of healthy eating.
---
Student Nutrition Program: The goal of a student nutrition program is to ensure that students who are at risk for poor nutritional intake have access to safe, adequate and nutritious food during the school day. Student nutrition programs provide nutritious meals and snacks to students to give them the nutrients and energy they need to be ready to learn. Every day, over 211,000 Toronto students participate in student nutrition programs.